Classic Archive Shoot: Just The Tip!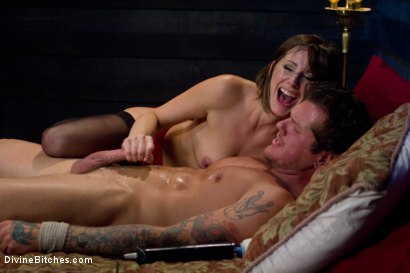 Join Site!
2 SITES FOR THE PRICE OF 1 - membership includes FREE access to full MenInPain.com archives
460+ Shoots
300+ Hours of Video
88,145+ Pictures
DivineBitches.com updates every Wednesday with a brand new HD Video, along with occasional bonus updates and Live Shows
Access to member forums
Tease and De

ni

al

[

TÄ"Z

ənd DI-

NÄ«

-əL]

-nouns
A general term used to describe any technique that involves the sexual stimulation of a person to cause intense arousal without climax. A series of T&D sessions can lead to a ruined orgasm, which deflates the orgasmic euphoria and places the man back into submission.
You've never seen me dominant a man quite like this before! Forget what you've seen in the past I ooze seduction from every pore and tease and deny Parker over and over again until he's so helpless and wanting his cock looks like it's about to burst! The connection between us is instant. Parker has searched high and low for a women to take control in his conservative town with no luck. I take advantage of this and expertly run my fingers, tongue, mouth, ass, pussy and warm flesh on every part of his body including his cock and back off over and over again. I edge him for four full hours till his balls are boiling over with cum. Parker is beside himself that I understand the male anatomy so well. He's blow away by the way I skillfully milk his prostate with one finger. Parker has climax after climax with without ejaculating. He's so overwhelmed he doesn't know if he is going to explode with cum or piss himself and he has to stop. I give him only a quick break to collect himself then I climbs on top of him and lead him to believe I'm going to fuck him. Truth is he does get to fuck me but just teasingly with only the tip. Parker's cock gets closer to my pussy than any other slave. With just one full pump, one full bounce on his dick he would erupt inside me. But, I deny him of that keeping it to just the tip and ride him to orgasm with satisfaction then pull away. I milk his dick making him wait to the last possible moment and finally let him erupt only ruining his orgasm and stroking his dick raw until he wishes every drop of cum would crawl back inside him!

xo,
Maitresse Madeline